New Offices, 2017
Local News Clipping, 1933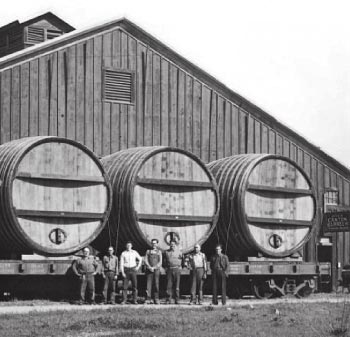 Canton Bag & Barrel,
Livermore Branch, 1941
Letterhead, 1956
At the Cooperage in the 1980s
Grand Cru Barrel Brand, 2002
Our History
1933
Canton Barrel & Bag Company, Inc. is established in the town of Canton, Ohio.
1940s
Canton develops its business with wineries on the West Coast.
1983
Moved to the new cooperage in Lebanon, Kentucky – Canton's headquarters today.
1998
Canton is acquired by Chêne & Cie, owners of Taransaud Cooperage in Cognac, France.
2002
The Grand Cru barrel is introduced. It is the first barrel made with American White Oak that has been open air-seasoned for three years.
2005
Canton releases the first 4 year open air-seasoned American Oak barrel, now named the Grand Cru Limited Edition.
2006
Receives certification for the true open air-seasoning of the wood.
2007
Canton's barrels are HACCP certified.
2013
Canton introduces the Vintage Premium barrel.
2014
Launches Spirit by Canton, a specialty barrel for high-end spirits and bourbons.
2015
Canton partners with American Forests to plant trees for reforestation.
2016
Introduces Spirit Grand & Spirit Premium, with superior quality and longer wood aging.
2017
New offices and cooperage expansion in Kentucky.
2019
Canton introduces the Canton Five, 500L Puncheon,
and the Long + Soft Toast barrels.